GOSSIP GIRL INSPIRED FALL COLLECTION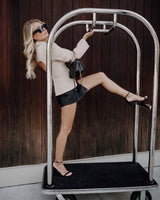 Meet The Owner of Surge Style, Chloe!
Hey guys I'm Chloe! First, I'd like to say thank you so much for all of your support and making this dream of mine a reality! I have a wide range of experience in the fashion industry from couture wedding gowns at Kleinfeld Bridal in New York City, to designer clothing and handbags at Michael Kors in Sarasota, FL. My experience in the industry thus far has always been supporting someone else's dream, Surge Style is my chance to live out a dream of my own. Thank you so much for shopping my boutique and I hope you enjoy!